Paint, Leather and Fabric Protection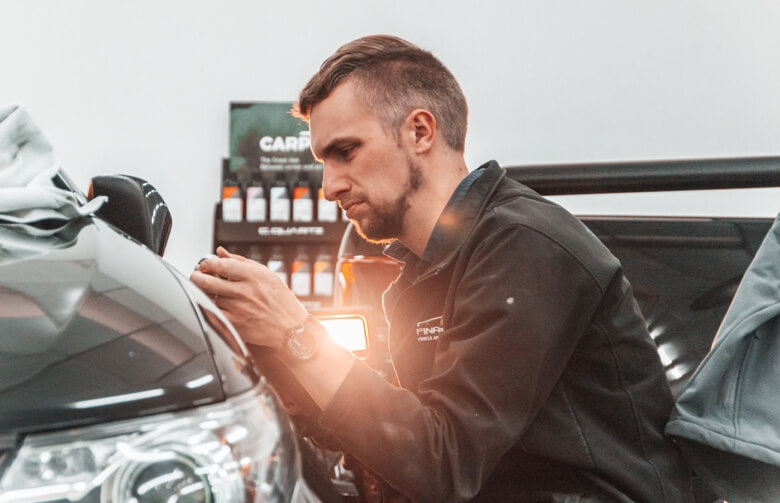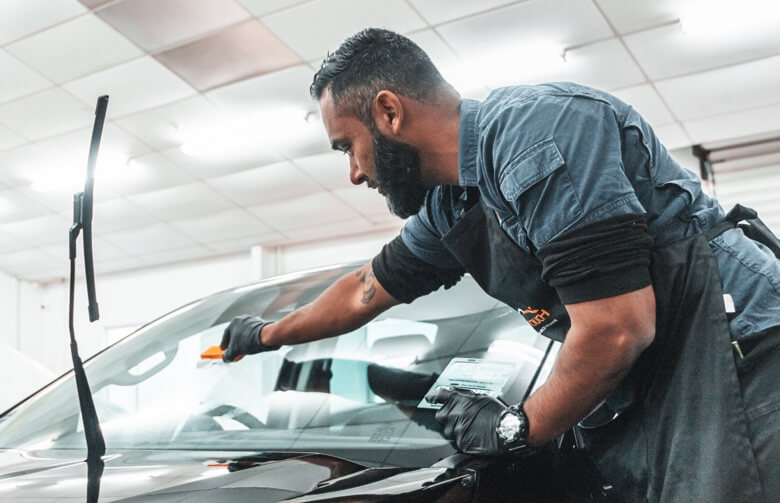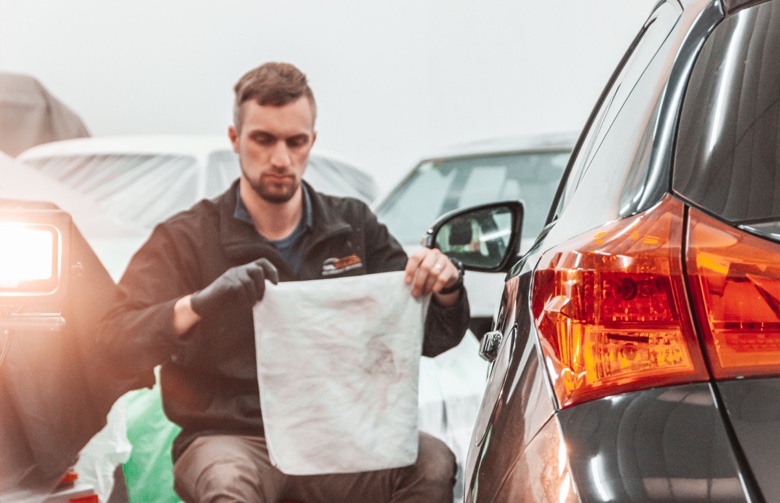 Step 1: Surface prep
Step 2: Application
Step 3: Maintenance
First we remove any grime, road film or surface contaminants leaving a fresh clean surface for us to work on. Surface preparation is really important when it comes to a successful application of paint protection and lasting water repelling effects.
Application is everything to ensure the ongoing performance and longevity of your ceramic coating. This requires careful attention to detail as we layer the coating onto the paint surface.
To maintain your Ceramic Coating we recommend washing the vehicle using an emulsifying wash, releasing any dirt from the paint surface and minimising wash marks. Then dry the vehicle off with a large microfibre towel. We have products available.
Just Ceramic Coating
I just want to protect my vehicle
Ceramic Coating
$695 - $1395Depending on car
Get Quote
Recommended Package: Platinum Protect
A comprehensive car revitalisation
SmartChip® stone chip repairs
Wash & surface decontamination
Machine polish refresh
Water spot removal
Wheel clean and apply tyre dressing
Interior clean & dressing
Leather clean & rejuvenation
Ceramic coating
$795 - $1395 Depending on vehicle size
View Packages
Popular Add-ons
Customers who get a Ceramic Coatings also often get:
Talk to your local operator about how we can help you get it all sorted in one go.
Frequently Asked Questions
How long does it take?
2 to 3 hours, but sometimes up to 8 hours in special circumstances. For example if there is a lot of prep work to do or multiple layer applications as well as longer curing times with some products. We make sure to meet your expectations to get the right coating for your car.
What are the main benefits of ceramic coatings?
Repel rain, mud, and dirt. Unlike wax or factory paint, a ceramic coating does a better job of protecting the exterior of the car. The best car coating products have hydrophobic properties and will make water and rain bead instead of a pool on the hood. Mud and acid rain splashed on the car slide off the smooth surface without leaving a stain. The same goes for snow, bird droppings, or ice as they roll off the car without sticking to its surface. This helps prevent UV damage, rust, and oxidation.
UV Protection. For the most part, leaving your car in the sun for too long tends to cause the car's paint to fade and even crack. The ultraviolet rays of the sun have a destructive effect on the car's surface. Many ceramic coating brands prevent this damage as well as other forms of corosion such as rust and oxidation.
Improved protection. With a ceramic coating for your cars paint, your car gets a semi-permanent layer of protection that bonds with the paint at the molecular level. That protective layer is tougher than the soft wax and can withstand ultra harsh treatment both from the terrain and the elements. In effect, you're not just protecting the car paint, but also protecting the body of the car itself against scratches, chemicals, and anything else that gets thrown at it.
Glossy finish. Regular car waxes have a warm appearance that gets dull when left out in the open. This compares to a sharp candy appearance you can get with a ceramic top coat. It gives the car a high-gloss finish that doesn't fade under the sun or with the passage of time.
What coating brands/ options do you offer?
We work with all the leading brands from around the world and apply the best products to match your needs and your budget.
This includes Car Pro C-Quartz, New Coat, Opti Coat, STEK and Duraseal Ultra.
Which coating is suitable for my vehicle?
Ceramic coatings lock in the vehicle's finish, providing a lasting shine and making it easier to maintain. They also act as an extra layer of protection to withstand ultra-harsh environmental conditions and the elements; repel rain, mud, dirt, bird droppings, salt, UV, and just about anything else.
It's important when we choose which one is suitable for you and your car to consider durability (years of performance; 2, 5 or 10), ease of maintenance, level of hardness, cost, and level of gloss/ age of your car.
How does the cost compare with car wax?
Since car wax doesn't last more than three months on average, you need to get the vehicle rewaxed a lot more than you may like. Ceramic car coating, on the other hand, is more durable, and a good coating with proper maintenance can serve you for up to many years before replacing it. In the end, you save more money with nano ceramic coatings than wax or paint sealants.
Can you come to my house/ work/ superyacht?
Yes we can. But bear in mind we always want the best for you and your car. We have fully equipped mobile vans so we can come out to you, but sometimes we need to work in a more controlled environment in a workshop or garage.
Do ceramic coatings work on motor bikes, boats, RV's etc?
Absolutely. Ceramic coatings can be applied to any painted surface and provide varying benefits from UV protection to easier maintenance. Talk to us today.
Are two coats better than one?
When considering a protective coating, it is best to view how the coating bonds with the existing clear coat. Vehicle clear coats are dimpled in nature like a golf ball. One layer of high resin content coating will fill in most of the dimples. However, two coats of a high resin coating will likely smooth the surface to a glass-like finish and deepen the look of the paint. In addition, because the surface is smoother the vehicle is easier to clean and dry.
Thank you SO much!
Used Final Touch for the first time last week. I wish I knew about these guys years ago. My car's finish now looks pretty close to new – and it's 20 years old. I am thrilled. Not only is the outcome looking fantastic, the customer service was spot on. Liam made everything easy.
Couldn't be happier with Darryl and the team!
Stopped in to get the stone chip touch up for my Suzuki Swift, well worth the price. Only regret was not getting it done sooner!