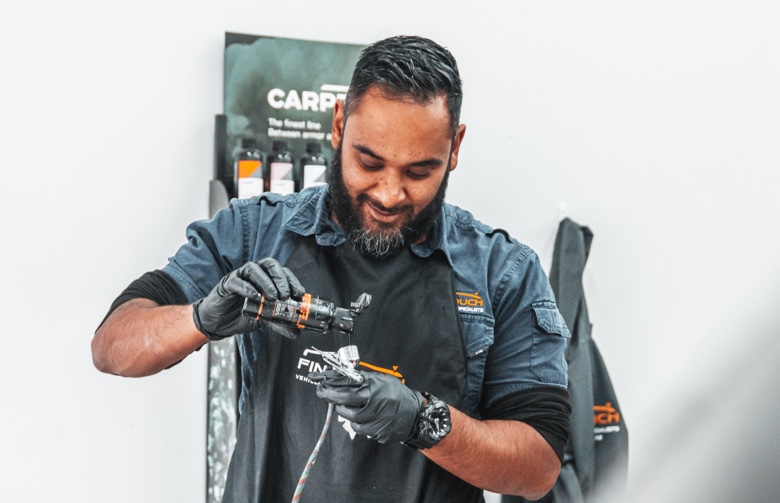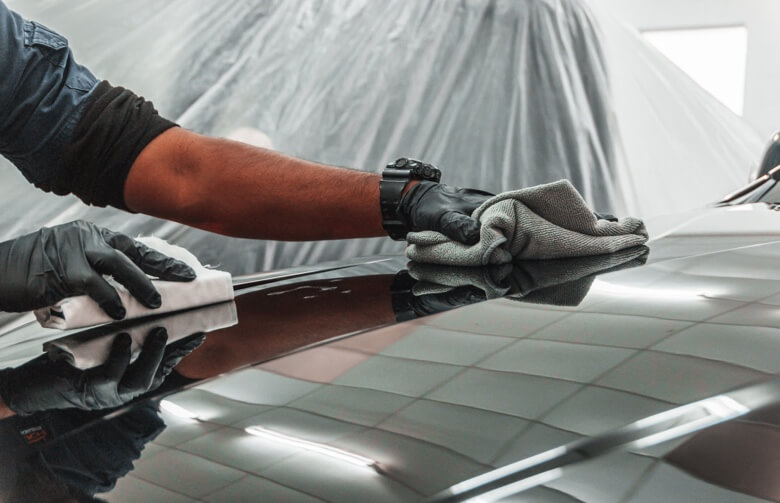 Step 1: Prep
Step 2: Match
Step 3: Polish
We prep the paint surface to the highest possible standard, cleaning contaminants such as tar, bee pollen, water spots, and other environmental pollution - allowing the surface to be cut and polished to a glass-like deep gloss look.
We carefully colour-match OEM-approved paint, and apply it to the panel using a unique airbrush application system. SmartChip® provides a durable, long-lasting paint finish, protecting the damaged area and preserving the look and feel at a fraction of the time or cost of traditional repairs.
The excess paint (overspray) is removed from the surface using our patented Formula184. This is what sets our system apart, and is specially designed to cure the paint into the stone chip leaving a deep fill, high shine finish that repairs as close to the original factory finish you fell in love with.
Just SmartChip® Repair
I just want the chips repaired.
SmartChip® paint chip repair
$150 - $250Depending on car
Get Quote
Recommended Package: Silver Refresh
It's time to refresh my vehicle
SmartChip® stone chip repairs
Wash & surface decontamination
One Stage machine polish refresh
Interior clean & dressing
Leather clean & rejuvenation
High quality machine wax / sealant
$450 - $650 Depending on vehicle size
View All Packages
Popular Add-ons
Customers who get SmartChip® Repair also often get:
Talk to your local operator about how we can help you get it all sorted in one go.
Frequently Asked Questions
How long does it take?
30 minutes up to 2 hours. Depending on the extent and number of stone chips around the vehicle we can make effective repairs with even quite heavily chipped paintwork.
What colours can be done?
Our range of automotive paints provides us with the ability to match just about any OEM colour. From varying shades of reds, whites, blues, greens, yellows and blacks through to pearls and metallics. Our technicians are expertly trained to match the existing finish.
What's the difference to other touch ups?
Genuine high build, high quality repairs. For over 25 years Final Touch has developed a unique airbrush spray method that continues to set the standards in the repair industry and stand out against all the others. This process is NOT a coloured polish or ink.
How long do the repairs last?
Our repairs use high-solid OEM approved automotive paint so our repairs will last as long as the OEM finish itself. Final Touch paints are unique to Final Touch and, specifically formulated for our use.
How new does it end up looking?
Let's be honest, there is nothing like a re-spray if you are looking for that perfect flaw free finish. But that comes with a significant price tag and with older vehicles you will lose that original factory finish you fell in love with. Our repairs are industry standard and 'optically undetectable from 2 metres' meaning you can enjoy your new car feeling at a fraction of the time and cost. We work with all the leading automotive brands and, for over 25 years.
Do you repair chips on classic cars, supercars, motorbikes etc?
We use high quality OEM approved automotive paint carefully colour matched to the existing paintwork and it can be applied to just about any painted surface, even marine gel coats. From small cars to supercars and well loved classics we have worked with just about every vehicle imaginable.
Thank you SO much!
Used Final Touch for the first time last week. I wish I knew about these guys years ago. My car's finish now looks pretty close to new – and it's 20 years old. I am thrilled. Not only is the outcome looking fantastic, the customer service was spot on. Liam made everything easy.
Couldn't be happier with Darryl and the team!
Stopped in to get the stone chip touch up for my Suzuki Swift, well worth the price. Only regret was not getting it done sooner!